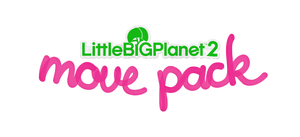 LittleBigPlanet: Move Pack (also titled Move Pack: Rise of the Cakeling) is a downloadable content for LittleBigPlanet 2, which requires a PlayStation Move controller.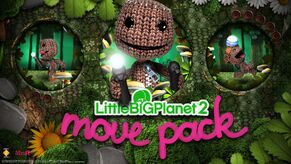 Details
The LittleBigPlanet 2 Move Pack combines the PlayStation Move controller with the world of LittleBigPlanet, and with five giant story levels and seven side levels, this is LittleBigPlanet's biggest Downloadable Content (DLC) pack to date! The LittleBigPlanet™2: Move Pack features a new story mode - The Rise of the Cakeling - in which a rogue cake threatens doom and destruction, and you Sackfolk must once again attempt to restore peace to Craftworld. This time though you'll have a brand new toy to make things easier, The Brain Crane; a new powerup that allows you to control objects with the power of your mind, freaky! A new suite of new creative tools give you the power to create your own Move games, record fluid motions, and paint your own stickers, whilst a boatload of new stickers, materials, decorations, costumes, music, sound and sequencer objects will vastly broaden your creative palette, and make your Popit heave at the seams. Did you know? We updated LittleBigPlanet 2 to work with the Move for FREE. As of the latest update you can play though all the original story levels, and all five million community levels using the Move Controller!
Costumes
Cubist Boy
Pearl Girl
Pop Boy
Renaissance Girl
Sunflowers Girl
Surreal Boy
Tools
Levels
Pins/Trophies
Product Compatibility
Gallery
Ad blocker interference detected!
Wikia is a free-to-use site that makes money from advertising. We have a modified experience for viewers using ad blockers

Wikia is not accessible if you've made further modifications. Remove the custom ad blocker rule(s) and the page will load as expected.