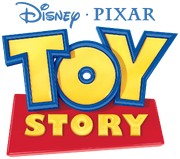 Toy Story is a CGI animated film series and Disney media franchise that began with the original 1995 film, Toy Story, produced by Pixar and distributed by Walt Disney Pictures. The franchise focuses on a group of toys that secretly come to life and end up unexpectedly embarking on life-changing adventures. The first two films of the franchise were directed by John Lasseter, and the third by Lee Unkrich, who acted as the co-director of the second film (together with Lasseter and Ash Brannon). Lasseter will return to direct the upcoming fourth film.
Characters
DLC Packs
Ad blocker interference detected!
Wikia is a free-to-use site that makes money from advertising. We have a modified experience for viewers using ad blockers

Wikia is not accessible if you've made further modifications. Remove the custom ad blocker rule(s) and the page will load as expected.